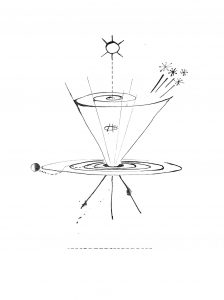 Turning it around. Spiralling, inwards & outwards, between infinitudes. Where the light comes in…  
I'm honoured to have a humble sketch in the first pages of Faye Miravite's book of poems "Poesie – Foglie di vita".
Her delicate precise words in Italian are full of feeling space and texture.
"Libertà
Delizia
Aspetta…."
Spacious words opening up infinities, colour, shards of memory…
 I love the generative quality that translating creates. There are always more meanings born when reading from one language to another. Generative poetics!